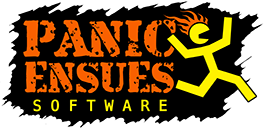 Privacy Policy
Effective date: August 12, 2018
Panic Ensues Software ("us", "we", or "our") operates mobile applications including "Tail Gun Charlie" and "Crash Dive" (the "Apps").
Information Collection And Use
Our apps will never collect any personal information from you, the player, without your knowledge and consent.
If you get a high score, you may be asked if you want to submit that score to our global leaderboards. If you choose to do so, you may enter a name to be displayed along with your score. We assume any name you enter to be fictitious; it will not be linked to you, your device, or any other service.
If you contact us via a "feedback" button within the app, some data about your device and the app may be included. If so, that data will be visible as plain text in the body of the email before you send it.
Any data you choose to share with us will be used solely for the purpose of technical support. It will never be sold or shared with any third party.
Contact Us
If you have any questions about this Privacy Policy, please contact us at info@panicensuessoftware.com.